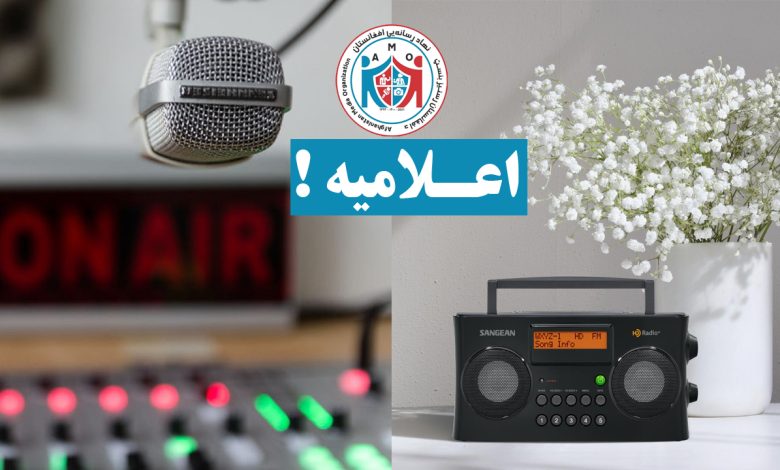 Statements
The announcement of the Afghan media organization in connection with the suspension of radio broadcasts of the organization in Balkh!
اعلامیه‌ی نهاد رسانه‌ای افغانستان در پیوند به توقف نشرات رادیو نهاد در بلخ!
Radio Nihad, which was operating as a local radio station in Balkh province, is no longer active since the 10th of Cancer. Najib Pikan, the owner of the franchise of this local media, has given economic problems as the reason for its closure.
Even though active organizations supporting the media, especially the Afghan media organization, have tried to solve the economic problems faced by the media in the country after the political developments in the country, we still get news every day that one of the media has stopped broadcasting.
Stopping and inactivity of the media in the country means silencing the voice of freedom of speech, also in a country where there is no freedom of speech, the people of that country are considered passive and no development and progress should be expected in that country. On the other hand, the shutdown of the media has caused the unemployment of journalists and media workers, which leads to an increase in poverty in the country.
Although economic problems have arisen in all aspects of life after the change of the system in Afghanistan, but the media have had the greatest impact, for this reason, the Afghan media organization has tried many times to discuss with government officials in the area of ​​electricity and media taxes. He made discounts on it.The Afghan media organization once again asks the relevant authorities to seriously discuss the financial problems of the media in the country and to try to solve these problems, because this organization believes that the freedom of expression, the existence of the media and the activities of the media in the country are one of the pillars. It is the main development and progress of the country.